May 29, 2022.
May's reflection
​
Now you can listen to the article clicking the image above
I think I have been trying to prove that being myself is okay since I can remember. I have been resisting being what others want me to be for a long time.
The paradox is that one starts assuming to know who one is just to discover a bit later that oneself, beyond the surface, is always different.
Being okay with myself is a lifelong process, and it is not a recipe for happiness. It is a decision.
I decided not to comply with what others tell me to be, to accept my weaknesses, and encourage my strengths. Like every other decision in life, that decision has a cost and a benefit.
Are you willing to pay the price of being yourself?
If you decided to follow your own path, to live with freedom, you have chosen a way of purpose and courage.
It is okay to be who you are becoming, even more, when the world seems against you.
If entrepreneurship is a synonym for resourcefulness in the face of change or adversity, then I am an entrepreneur. In other words, entrepreneurship is helping me to become more purposeful, more courageous, more adventurous, and more connected with others. I want my legacy to be a story about learning to become a freer person.
---
New mentoring sessions
I just finished to organize the three main mentoring sessions I offer.
If you feel drained and looking to improve your energy levels, choose the green circle.
If you are planing to start, or if you recently started your new venture and you still feel insecure, choose the orange circle.
If you see the value of sharing a a workin space with likeminded people, instead of working from home all the time, you might want to start a Coworking space, choose the yellow circle to learn how I did it.
​
---
Other news
Together with some friends we re-started B4Contact, the first business I opened when moved to Slovenia. This time is focused on integrating the best services available in the market for you and your business to have an effective presence online. At this moment the website is in Slovene language, in the next few days the English version will be available. Check who is in the team :)
Do you know that you can always review past newsletters? Click here to see them.
​
---
The Podcast
​Igor Dzhebyan is the CEO and co-founder of andcards, born Ukrainian and self-proclaimed digital nomad.
In this podcast, you will listen to Igor's story, where he explores the world of entrepreneurship, business, and personal development.
He shares with us his core values and how he is using them today to support his compatriots in distress because of the war.
I'm sure you'll enjoy his wisdom and experience: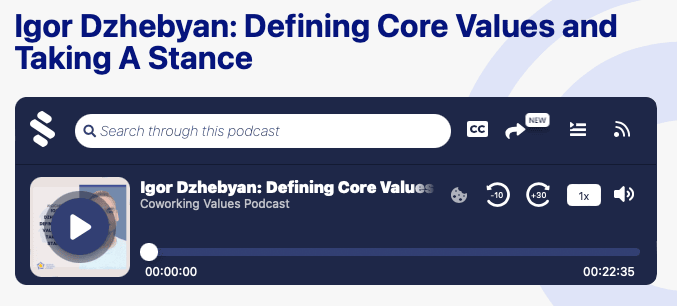 ​
---
​
Supporting Ukraine
Our friends from the Ukrainian Coworking Association published a page with curated resources, check it out.
​
---
Dear friends, take time to look at your loved ones, share a smile, and make them feel loved.
Jose & Jernej.